COMPLETE BATHROOM REMODEL
Discover The Beauty and Function Of A Completely New Bathroom Remodel
Complete Bathroom Remodel Can Mean Much Needed Space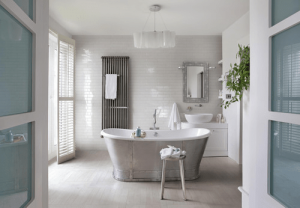 The Remodeling Pro has been providing high-quality complete bathroom remodels for over 36 years to the entire Kansas City metro.  Our complete bathroom renovations are often major projects, where we remove walls, redirect plumbing, and relocate fixtures and cabinets all to suit your specific need. In fact, it is far more than just replacing a shower, tub or lavatory.
Do you have special needs – we offer walk in tubs, grab bars, zero grade showers and much more.
A complete bathroom remodels can add needed space and give your bath a completely new luxurious feel. Customers who choose a complete bathroom renovation often opt for larger windows, bigger spaces raising ceilings and new tubs or showers.  If you can envision a completely new bathroom The Remodeling Pro can build it. Why not give your bath a new modern design with a pampered luxurious feel?
Ideas for a bathroom remodeling project
Style – Creating an oasis in your master bath (Luxury, Splurge)
Design – 2017 has moved back to organics and naturals
Material – Easy to maintain but still stylish
Fixtures – (faucets, lighting, and hardware)
Colors – Clean, matte and neutrals paint colors