Get A Chef's Kitchen With Your New Kitchen Remodel
Designing A Kitchen Remodel That Suit Your Style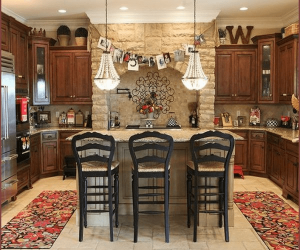 Thinking about giving your family a kitchen remodel they can be proud of?  We will help you create a space that is welcoming and trend worthy.  For over 36 years in Kansas City, My Remodeling Pro has helped homeowners like you increase the value of their home with a new modern kitchen.  We can design and construct a complete kitchen renovation that you can be proud of, just set the budget and time frame.
My Remodeling Pro's skilled staff is ready to guide you on your kitchen remodeling adventure, starting with a FREE no-hassle consultative appointment.  Call today for an appointment (913) 286-9800 (816) 307-0505
Complete Kitchen Remodeling
A complete kitchen renovation from the remodeling pro you can trust, includes a whole new design, plumbing, cabinets, lighting, flooring, and countertops. Unless you built your home every aspect of your kitchen was designed with someone else in mind; with a complete kitchen remodel we'll turn that around and design a new one just for you and specific needs your family.
Check out these great links that will discuss each option you have when designing a new complete kitchen. My Remodeling Pro would be glad to walk you through the pre-building design process, call (913) 268-9800.
Flooring (Wood, Tile, Carpet and More)
Relocating features to suit a new layout (plumbing, cabinets, appliances)
Lighting (Pin, pot, industrial, chandelier, mounted or fan)
Cabinetry  (custom, painted, stained)
Countertops  (Granite, Stone, Marble, Tile)