So What Is A Forever Home?
Simply put a FOREVER HOME is home that fits you and your family members – today, tomorrow and FOREVER. You've found the community in which you want to live. You love the people, the shopping, and the restaurants. And most importantly you found the perfect schools and a trusted church home. Now is the time to maintain your roots by designing and building your FOREVER HOME.
Whether you are starting a family, growing it larger or just planning to retire and age in place in your home and the community you love. My Remodeling Pro can help you create your FOREVER HOME TODAYTM.
Your FOREVER HOME may require a room additions, bathroom, basement or kitchen renovation. You may wish to create a home in which you can age in place. This may require even more specific requirements such as – wider hallways, safer bath accessories or wheelchair accessible lifts, counters and cabinetry.
Creating the prefect place in which you can live in and grow with – a FOREVER HOME – brought to you by the professional designers, skilled craftsman and motivated to serve + please sales and management staff at My Remodeling Pro.
We want to let you know how pleased we are with the work that Keith Davis provided us. He installed a new shower for us and did a great job! Also he is a nice man. Thanks, again.

David + Kathy R
Shower Conversion 2-14-2018
Reliable remodeling company. Very friendly and professional. Kept area clean. Will hire again

Rhond P
Bath Remodel 4-29-2017
Why Choose My Remodeling Pro To Create Your Forever Home?
My Remodeling Pro is a locally-owned family business with over four decades of success in our community. Kansas City is our FOREVER HOME. We follow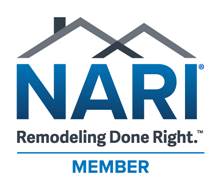 the local codes for your community and national industry standards for quality building and remodeling.  We are members of NARI (National Association of the Remodeling Industry) and are pledged to observe high standards of honesty, integrity and responsibility in the conduct of our remodeling and contracting business.
Most importantly, as a matter of respect – we believe in placing control into the hands of our customers. You will never get something different from what you expected. No matter what the size or type of your project – bathroom, kitchen, aging in place renovation, room addition, attic addition, basement remodel – you can count on My Remodeling Pro to provide you with designers, craftsmen and sales staff committed to putting a smile on your face.