Enjoy A Simple Makeover Or Partial Bathroom Remodel
Partial Bathroom Renovations That Make Your Bath Look Entirely Different
A bathroom remodel doesn't always have to be an enormous project. You may find you love your bathroom but for a few dated features, if that is true call The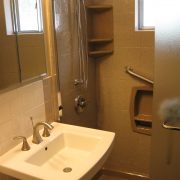 Remodeling Pro today. For over 36 years we've been helping clients just like you develop a small or partial bathroom remodel that doesn't break the bank, but will transform your bathroom into a modern oasis.
Adding new lighting, a fresh coat of paint or a new cabinet counter top can make all the difference. The Remodeling Pro can design and build a new bath you can be proud of; all you need do is set the budget and time frame for completion.
The Remodeling Pro's highly-trained project managers are ready to guide you into a new bathroom remodeling adventure, starting with a FREE no-hassle consultative appointment.  Call today for an appointment (816) 286-9800.
What is a partial bathroom renovation?
It is exactly what it sounds like, a facelift with limited real construction. The Remodeling Pro can replace and upgrade your bathroom simply with new lighting, cabinets, flooring or accessories. If you like the general layout of their bathroom, there is no need to for major changes in your bathroom structure or plumbing.  Finally partial bathroom remodeling can be far less expensive than a complete bathroom remodel.
Ideas for a limited or partial bathroom remodeling project
Shower, tub or fixture replacement
New cabinets or countertops
A change in lighting fixtures
Updated flooring
A fresh coat of paint
Accessibility changes like widened doorways, safety rails and walk in tubs
The Remodeling Pro

Your Ideas Into Reality

Makes Dreams Come True

Can Help You Age In Place

Offers Easy Financing

Is #Trending Now!