KANSAS CITY BASEMENT REMODELING
Sorry Right Now The Remodeling Pro Is Not Taking On Basement Remodeling Projects.
We can however offer bathroom, kitchenette, and bar plumbing services.
One of the more popular renovations that The Remodeling Pro does in Kansas City is a basement remodel – media rooms, game rooms, family rooms, bedrooms and baths.  Since 1978, The Remodeling Pro has offered high quality remodeling for every room in the home, but basements are different.
Why are basements different?
Basements take experience. Planning a new room addition in a basement can involve checking for mold, water damage and floors that have become uneven over the years. At The Remodeling Pro we make sure that none of these issues cause you to throw good dollars after bad.  Your basement may be unused empty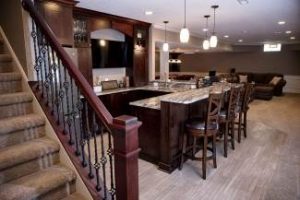 space today, but you must make sure it's capable of holding up to the remodel you plan. One simple leak could ruin thousands of dollars' worth of effort and beauty.
Call The Remodeling Pro today to set up an appointment, we will listen to your wants and needs, inspect the space and make sure we are aware of anything that must be resolved prior to or as part of the basement renovation process.
Let us help you transform that wasted lower level into a fully finished and usable part of your home.
Basement Remodeling Ideas

New guest bed and bath
Storage Space
Media Room
Game Room
Wine and Sports Bar
Custom Workout Space
Play space or family room
Our talented Project Managers can help you create a plan that works for everyone in the home. They can make suggestions when necessary like egress windows, organized floor plans and economical materials that are hot and trending. We will identify any existing or potential code issues and determine solutions for them.
Some of the most common issues we will need to fix as part of your basement renovation include:
Water Damage Control, Sump Pumps
Egress windows and safe exit options
Ceilings drop or drywall
Plumbing