Call Today For A New Bathroom, Kitchen or Living Space (913) 268-9800 (816) 307-0505
Our Newest Remodeling Projects
The Remodeling Pro helped this customer convert their tub to a brand new shower using the Onyx Collection shower surround system manufactured in Belvue, KS. Onyx's smooth, glossy surface reflects light, making your shower space appear brighter and more spacious. Safety is paramount in any bathroom, especially for individuals with limited mobility, seniors or anyone concerned about fall risks that is why we provided a reliable grip, allowing users to maintain their balance while moving in and out of the shower or while maneuvering within it.
This Liberty homeowner picked beautiful La Marca glazed tiles on floor, surround and wainscoting and accented the room with brushed gold Moen fixtures. Wow! What a change.
KANSAS CITY ONYX TUB REPLACEMENT
REVIEW
OneLocal Review, Review Shannon
"I am so glad I chose the Remodeling Pro to redo my bathroom. Mark did an excellent job and I am so happy with the results! Ed was very present and involved in the process and all went smoothly. Cost was very reasonable as well. I would recommend the Remodeling Pro to anyone needing work done at their home." January 18, 2023
REVIEW
OneLocal Review, G Sallas
"We were impressed with Ed Minor with how he handled the project. We also really liked Mark as he continually showed he truly cared about doing things the right way.
As in all projects, there were some things I would have liked to go differently.
1. Cleaning of the dry wall tools and painting tools was some on the side of our house which left our pea gravel discolored. Ed asked if he should buy pea gravel to replace. I felt uncomfortable, I feel it just should have been done.
2. The left over tile was significant and we were told the company would not take it back. Everyone I have talked to claims their extra tile was returned for a refund.
We are still happy with the results and like I said above we appreciate the professionalism and caring shown by Ed and Mark."   January 14, 2023
KANSAS CITY BATHROOM MAKEOVER
REVIEW
Email Review, C Smith
"I wasn't here when you stopped by, but I wanted to say thank you for the gorgeous bathroom. As always, we couldn't be happier with the way it turned out. Mark and Danny did an amazing job. Sure, seems if we can dream it up, you guys can make it happen. I don't think there was a single hiccup (Kohler excluded but we appreciate the patience with us on that and I know it is frustrating). I can't even begin to tell you how much we love you guys. The overall project is great, but there are so many little things along the way that I am always impressed by that I can never fully communicate my appreciation on. The planning and detail that Mark and Danny put into their work makes a huge difference and, in my opinion, sets you apart. Little things like the tile work around the drain that turned out spectacular because of the planning they put in to make it that way. Danny even painted the old hardware on our window which looks amazing! Just the small touches they do to make the overall project look better even though it is never expected. That is just two examples, but they did that with everything. The whole bathroom has that level of detail, planning, and thoughtfulness. I know I probably said it last time, but it is really hard to find a company that cares about your house as much as you do, but you guys might even care more than us. I hope you know that we will advocate for you guys any day. If you ever want us to talk to future clients or showcase the work you have done for us, we would be happy to.

I hope you and your family have a wonderful Christmas. I know we have to square up on what we owe you, so I am sure we will chat at the beginning of the year. Just wanted to tell you how excited I am about our bathroom. It is even more amazing than I expected. Thank you again!"  December 21, 2022
Thornhill Main Bedroom and Bathroom
Tavernaro Bathroom Remodel
Exciting new bathroom with heated floor.
KE Bathroom Remodel
This bathroom just needed a few updates and now the owner is excited to show off their new bathroom.
Smith Home and Kitchen Remodel
This home and kitchen built in the 1970s is drastically transformed into a beautiful, functional and up-to-date space. The owners of this newly remodeled home are very happy now.
Brown Kitchen Remodel
This kitchen transformation is great and the homeowners are very happy now.
Greenwood Shower Replacement
This Independence Mo home has a brand new beautiful walk in shower. The customer chose the Sterling Ensemble shower stall.
Cleaver Fireplace Update
This Lees Summit home had a tired old fireplace facade, The Remodeling Pro had already completed other projects and the owner requested some suggestions to update the look of the fireplace. Here is what we created.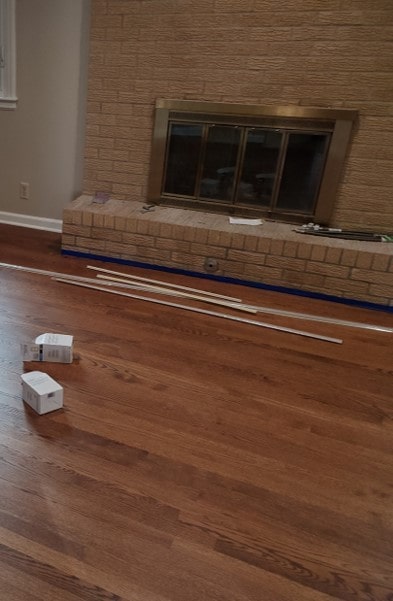 Before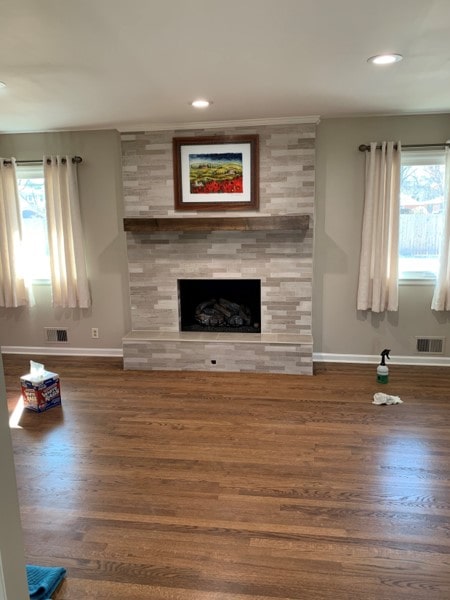 After
Shuemaker Shower Replacement
This bathroom in Raymore just need a little updating. We installed Onyx wall panels and shower base along with a new shower door with ShowerGuard. ShowerGuard's patented technology helps keep minerals, scale and soap scum from sticking to the glass.
Here is what the customer had to say –
"The project (a new, remodeled shower stall in our master bathroom) went exactly as planned – on time and on budget with as little fuss and mess as possible. James was exceptionally easy to work with. When a decision had to be made, he gave us good, well-considered options and was very agreeable about discussing our ideas and concerns. All that said, we are very happy with the final project." January 10th, 2020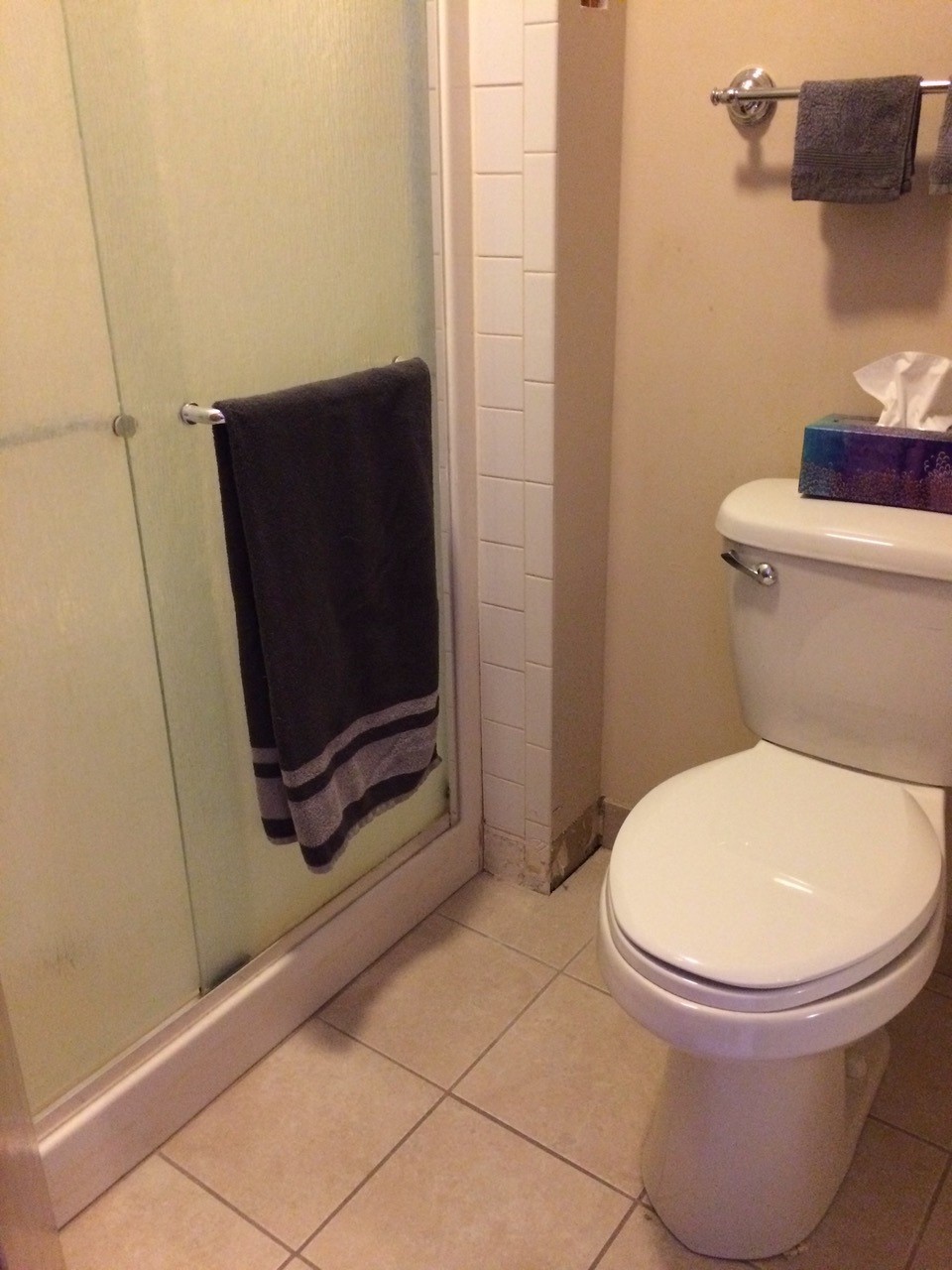 Before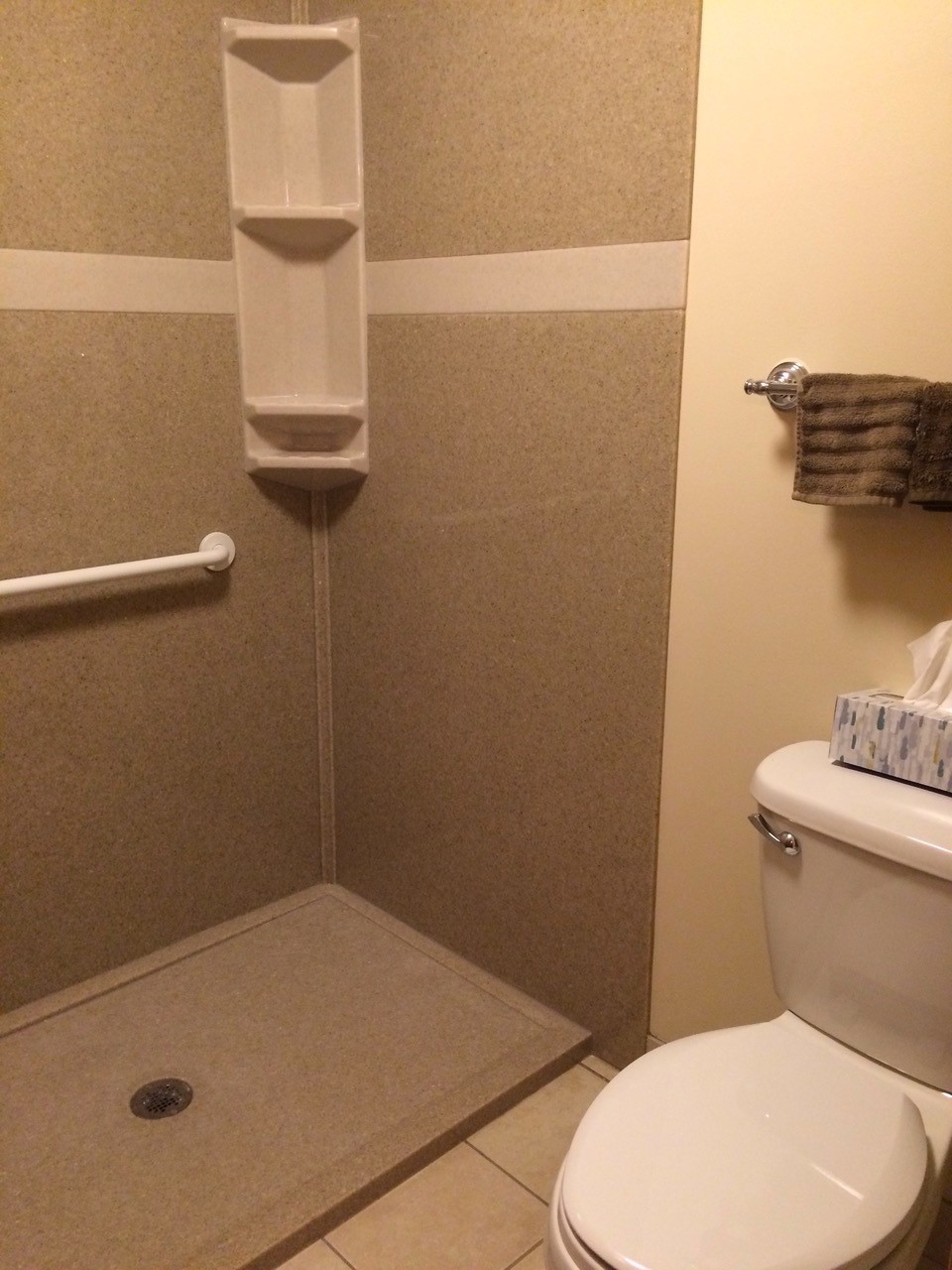 During Install Without Door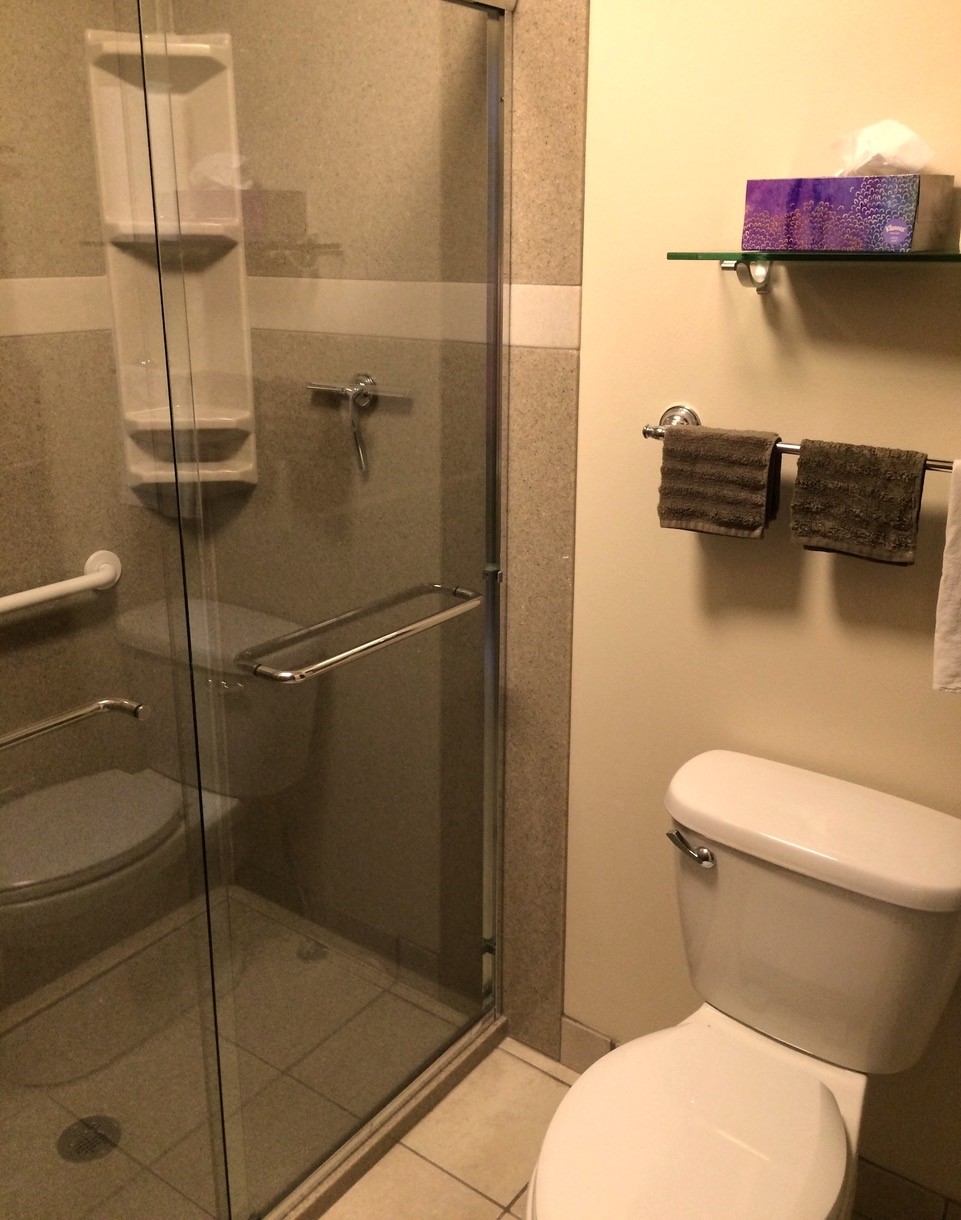 After Completion
Aker Whole Home Remodel
This Raymore home was charming, but the owners wanted to add light and open it up a bit. Check how great it turned out this before and after photo of their great room and kitchen.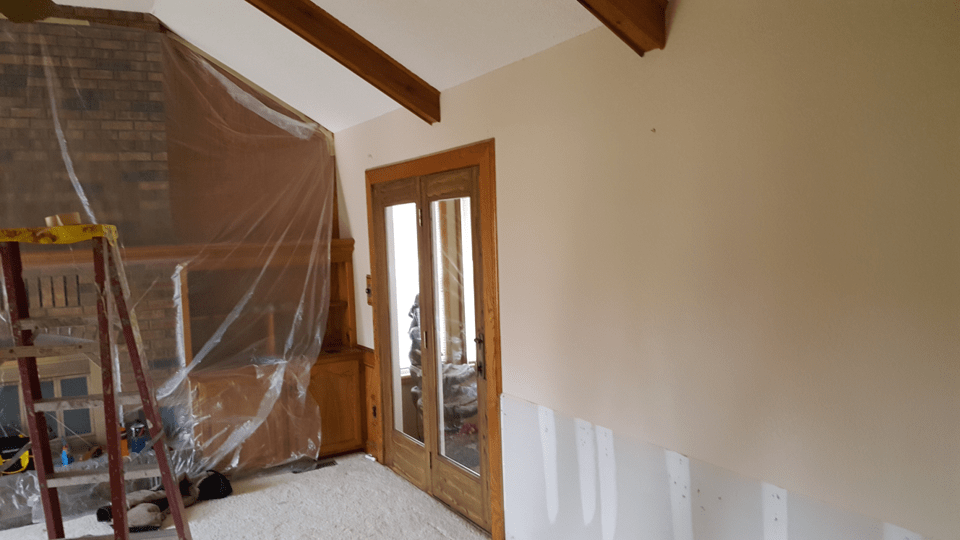 Before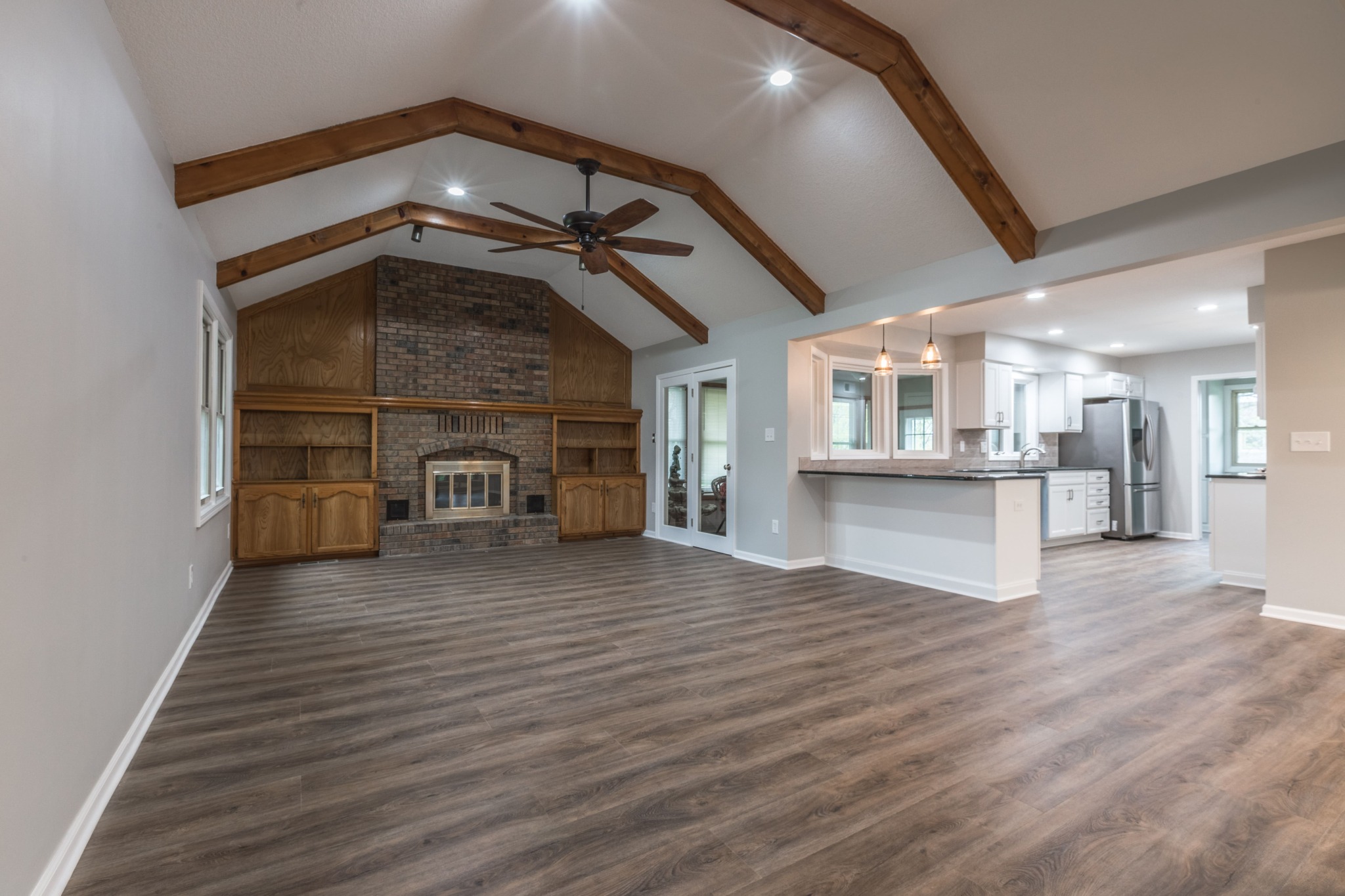 After
Keener Condo Remodel
This Kansas City condo owner initially wanted to remodel a laundry room. The project grew into several other updates including a brand new entertainment center, shelving, kitchen tile, countertop and laundry room cabinets.
Davis Whole Home Remodel
The home owners of this home wanted to bring it up to date. They wanted a more open layout for the kitchen and family room area. So The Remodeling Pro removed the wall between the family room and kitchen. We then updated the entire kitchen with new appliances, cabinets, countertops and plumbing.
Crabtree Master Bathroom
The Remodeling Pro designed and built a wheel chair bathroom that is both beautiful and functional. Located in Jackson County, this bathroom has a barrier-free shower, floating lavatory, and wheel chair accessibility.
Johnson Master Bathroom
This twenty something bathroom needed an update and the homeowner had a wonderful eye for design. It's bright, open and yet comforting.
Ament Basement and Bathroom
This project entailed a makeover of a preexisting basement, bedroom, office, living space and bathroom.
Bretz Bathroom
This is a bathroom remodel with a new shower and lavatory using the Onyx Collection.
Brown Basement Bath
This is a bathroom remodel with a new shower and lavatory using the Onyx Collection.
DuPuy Shower
This is a bathroom shower remodel using the Onyx Collection.
Franics Loft Kitchen
This beautiful remodel of a kitchen in downtown KC loft.
Friday Shower Conversion
This a quick bathroom makeover with an Onyx shower surround.
Gomez Shower
This is an Onyx Collection shower wall surround bathroom remodel.
Hamilton Hall Bath
This is a bathroom makeover using a variety of tile. Creation of new tub/shower space and new lavatory.
Hicks Master Bath
This is a bathroom makeover using the Onyx Collection. Creation of new shower space, free-standing soaker tub and new lavatory.
Stimetz Bathroom
This is a major renovation of space for a new master bath. It features new tile, new lavatory and claw foot tub. The new tile floor really sets this space off.
Whitty Master Bathroom
This is a major renovation of space for a new master bath. It features new woodstyle tile, new lavatory and walk in shower space.
Wolfe Bath Conversion
This a simple but trans-formative bathtub replacement and with Onyx Collection surround.
Call Today For A New Bathroom Or Kitchen (913) 268-9800 (816) 307-0505