Lake Lotawana Remodeling Pro
Kitchen, Bathroom And Whole Home Remodeling Services (816) 307-0505
Are you looking for a remodeling professional that services Lake Lotawana? Look no further

Since 1978 The Remodeling Pro has been remodeling Lake Lotawana homes. Our years of experience has made us the go to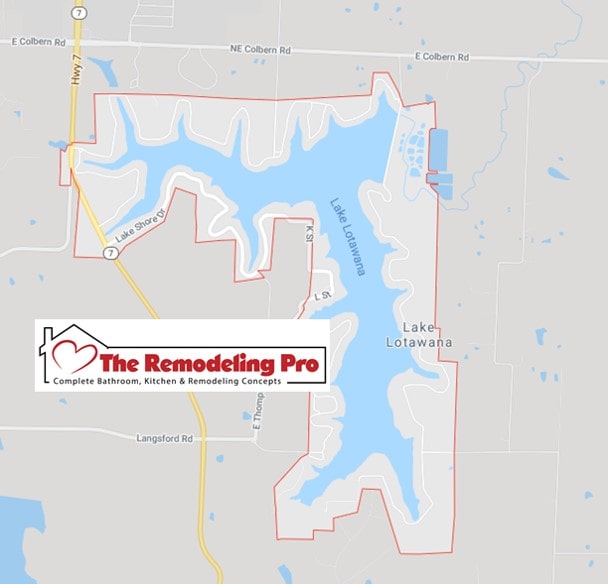 remodeler for kitchens, bathrooms and room additions. We promise to provide the highest quality products and craftsmanship at a great price.
The Remodeling Pro can help you find just the right solution to your home improvement plan. If you hire us to complete your remodeling project with our well-trained professionals or we work out a plan to help you with your DIY project, either way we will put a smile on your face.
We can take your dreams and turn them into a reality. Our professional team of designers, builders and customer support staff can complete every necessary aspect of your home remodeling project – lighting, flooring, plumbing, tiling, electrical and structural.
Cal us today. (816) 307-0505
Four Easy Steps To Your Remodeling Project
The Remodeling Pro has helped families just like yours for years. Over the years we have developed a simple four step process.
STEP ONE

Our no-hassle, no high-pressure consultation will help you determine the best solution and redesign for you.

STEP TWO

We will then create a plan; help you visualize the final product and produce a proposal that clearly spells out the costs and expectations.

STEP TWO

STEP THREE

The Remodeling Pro will then build the dream bath, kitchen or room addition you've requested. All the while, keeping the workspace YOUR HOME clean and safe.

STEP FOUR

Finally, our project manager will do a walk thru review with you. And confirm you are satisfied.

STEP FOUR
Whether you are looking for a full kitchen makeover or a simple bathroom fixture upgrade, our team is dedicated to seeing your vision come to reality. We'll help you design the home of your dreams with your budget in mind.
WE ACCEPT ALL MAJOR CREDIT CARDS, CASH AND CHECKS. WE ALSO OFFER FINANCING THROUGH GREENSKY.
We Work On Home Residential and Commercial Property
The Remodeling Pro can help with both residential and commercial projects at Lake Lotawana. We are dedicated to creating lasting relationships with our customers and promise to always make your remodeling experience a positive one.