Smith Home and Kitchen Remodel
Here are some great photos from one of our recent home remodeling projects. This couple wanted to remove a wall and create a more open footprint. They also wanted to completely update their kitchen and dining space.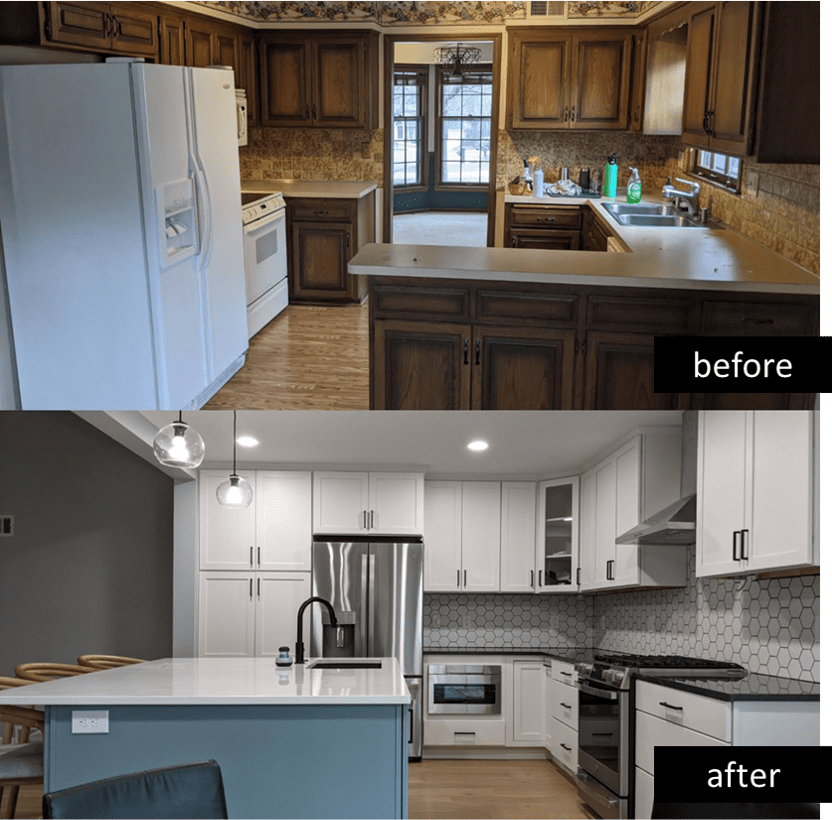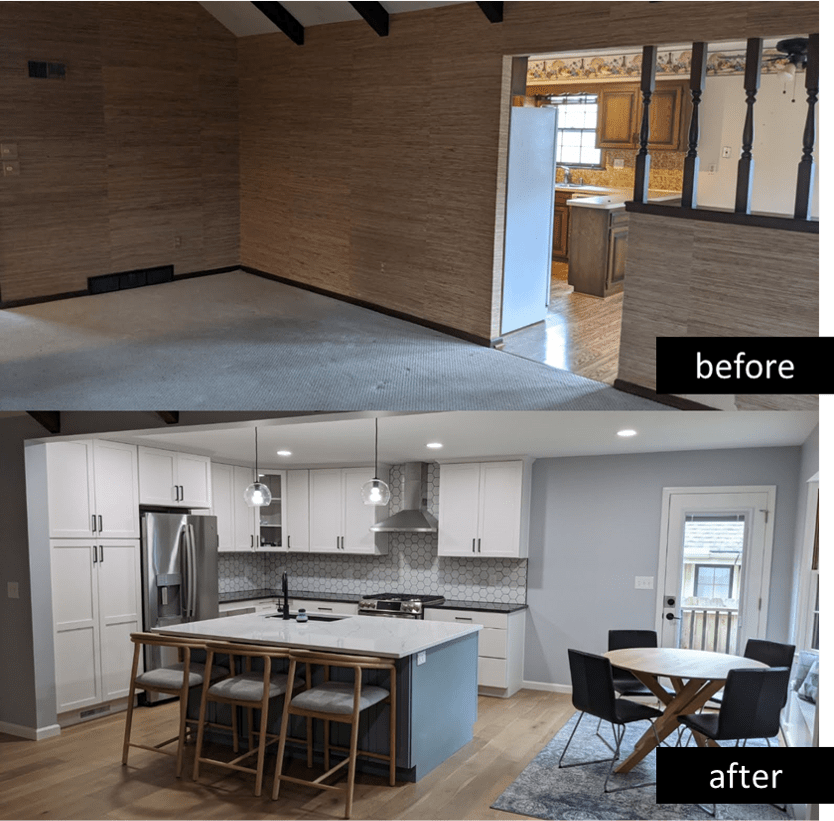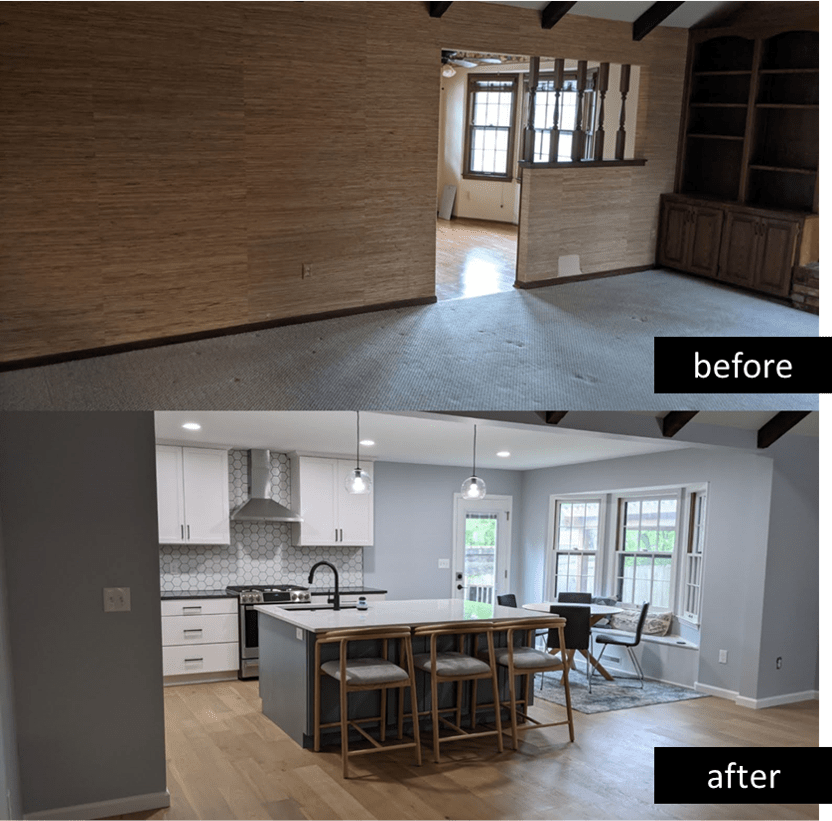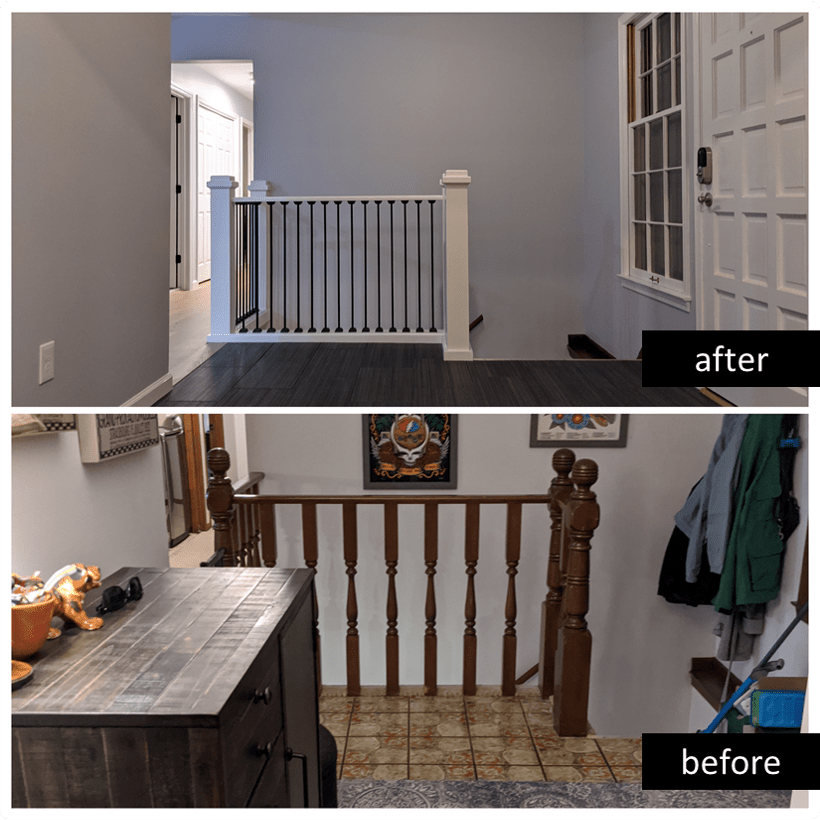 Read the customers review of the project.
From start to finish The Remodeling Pro was fantastic and we wouldn't think twice to refer them. Our project removed a load bearing wall between our kitchen and living room, converting the dining room to a home office, full kitchen gut and remodel, new floors, paint, and generally updating our house. We are planning to have them back to help us with a master bath remodel next. I have provided more detail below for those that are looking to work with the Remodeling Pro and would like more info on what to expect.
The Start – We vetted 4 contractors for our home remodel and all were honestly fantastic, but we decided on The Remodeling Pro because our original plans were a little over ambitious and they remained patient, helping us come up with something we could afford while prioritizing what we would be happy with. Personality wise, Steve and Ed were a great match for us. They did not push us to sign a contract and never put us out of our comfort zone when it came to financial decisions. The contract was provided ahead of time and when pricing was discussed they gave us plenty of time to discuss on our own prior to making a decision
The Contract – Getting the contract in order did take time. In the end there was a very clear statement of work on what was or wasn't going to be included. Without tearing into a single wall they had a lot of knowledge about our house making us feel confident in their ability to handle the scope of our project. There were no surprises or misunderstandings through the entirety of our project.
The Bait and Switch – With all contractors you just know there will be a bait and switch. We met with Steve and Ed and eventually they introduced us to Mark who would be the person at our house every day. We absolutely loved Mark. As a matter of fact, every person that came over to our house during our major renovation was just fantastic. I feel like we got to meet all of them, and they were all great. Everyone takes pride in their work and all did nothing short of an amazing job. I used to think no one would care as much about our house as us, but I stand corrected.
The Day to Day Work – Mark was at our house every day and coordinated getting the work completed. We became quite close with Mark. Our dog sat in the window and waited for him to arrive every day and Mark would make sure to pet him when he came in. We were working from home for the majority of the time and cohabitating with Mark during the weeks was a treat. Mark was there for everything that happened over the entire project. He takes so much pride in his work. While we were warned that we might be frustrated at times, it didn't end up happening. If we were going to be annoyed about something, it was almost certainly bothering Mark already. It made it pretty easy for us to just relax and know he had it all under control. We genuinely enjoyed getting to know Mark and miss him already. I will also give a shout out to Nathan, Alan, Skylar, Adam, and Jimmy who helped out on our house as well. They all do great work. Also, Richard, who we never actually got to meet, but helped us with our kitchen design (and technical issues posting this review).
The Final Product – Magic! What they did is magic. We could not be happier with our house. The quality of the work was top notch and it looks great.