2017 Home Show Remodeling Pro
Two Day Build With Big Results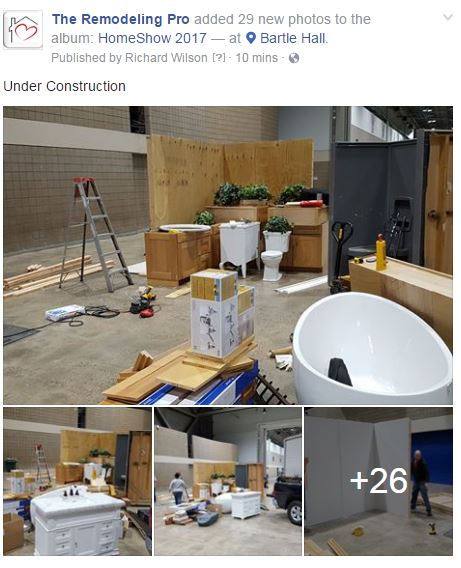 Check out the 2017 Home Show Remodeling Pro booth and find out why you should use the Remodeling Pro for your next project. Did you know it just took us two days to create our beautiful booth for this year's Home Show at Bartle Hall Convention Center (Kansas City MO). Our craftsman pieced it together last week so quickly because it was well thought out and planned by our design team. Well before they entered the hall to start the project, a design, products and all the details were accounted for by our staff.
A project from The Remodeling Pro works much in the same way – we help you determine the design; pick the products and the set a schedule that make sense to complete the build. Need a new bath or a kitchen for you home? Call us today (913) 268-9800.
All the details including the eye catching Sherwin-Williams "Cooled Blue" bathroom wall, Mirabelle fixtures and tub provided by Ferguson, granite counters tops by Legendary (Independence MO) and custom kitchen cabinets really made the booth standout. We also showed off the Onyx Shower and flooring from ProSource (Lees Summit, MO).  Thanks to all those who helped us make this show a success!
Just imagine what The Remodeling Pro could do for you! Bathroom, kitchen or any remodel, we do it all. For more information or to schedule a free no-hassle appointment please call (913) 268-9800.