Ament Basement Remodel 2017 in Raymore, MO
Basement, Bathroom, Office, Bedroom
Products Used: Moen, Onyx, American Standard
The Ament basement remodel project completed this year 2017 in Raymore MO was quite extensive. This project was at Creekmore in Raymore, MO. The Remodeling Pro added new plumbing for a brand new bathroom, added electrical outlets and lighting and added four complete new rooms (a bedroom, bathroom, living space and office.) All the rooms featured new tile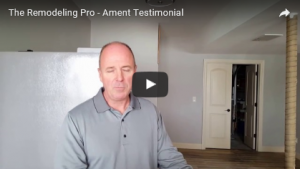 flooring, sheet rock walls and a cheerful paint scheme.
The bathroom included a shower with Onyx walls, extended corner seat, corner shampoo caddy and new lavatory. The new bedroom contains a beautiful lighting fixture and a trendy barn-style closet door. The project took around a month and half to complete and the homeowners were very happy with the work.
If you are looking to turn your basement into new living spaces with bath, bedroom, bar, or office The Remodeling Pro would love to help you create a plan. The Ament project is a good example of what we can do. Call The Remodeling Pro today to schedule an appointment.
CALL TODAY (913) 268-9800
The remodeling pro is top notch honest and very easy to work with from start to finish.

David G
Bathroom Remodel 02-12-2016
Reliable remodeling company. Very friendly and professional. Kept area clean. Will hire again.

Rhonda P
Remodeling 04-29-2017
Workmen polite, always left site tidy.

John R
Remodel 07-19-2016
Helped me with my bathroom remodeling project. Love it!

Richard W
Bathroom Remodel 06-01-2016
I hired the Remodeling Pro to update my bathroom. They replaced bath tile, vanities, and even lighting. Looks Great! Thank you- Ed, Keith, and John.

Richard W
Remodel 06-26-17
We met The Remodeling Pro at an expo. They were a little slow recontacting us to schedule an appointment, but from then on everything was prompt and efficient. The bid was cheaper than our other bid from a national franchise outfit. We preferred traditional "down to the studs" work rather than "fits over the old" process, so went with The Remodeling Pro.

Client
Replaced bathtub and surround 04/18/15