Looking for a Lee's Summit Remodeling Professional You Can Trust?
Kitchen, Bathroom And Whole Home Remodeling Services (913) 268-9800
Top 25 Lee's Summit Remodeling Company
Since 1978, the Lee's Summit remodeling professional you can trust has been The Remodeling Pro. As a full-service home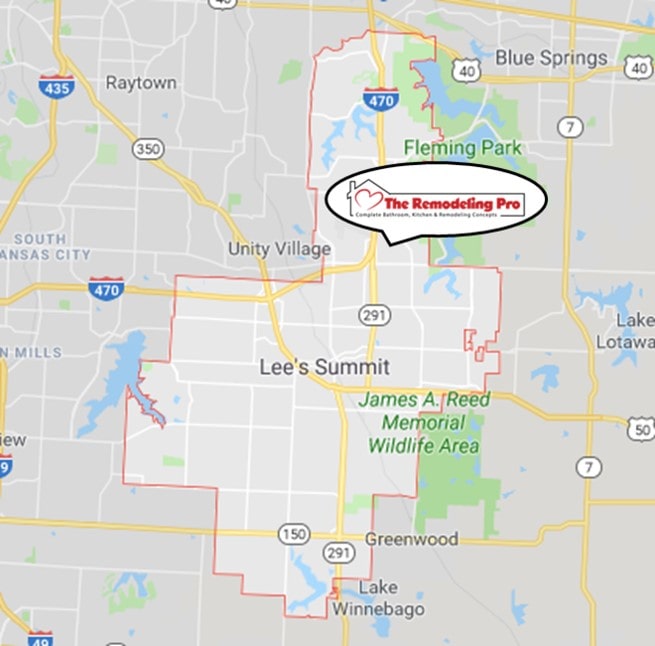 remodeling company; we remodel kitchens, bathrooms, basements, room additions. Most importantly, we are proud to provide high quality remodeling services to Lee's Summit home and business owners.
Design Your Dream Home
If you live in Lee's Summit, we can help you design and build your dream home. From James A Reed to Lake Lotawana we have completed remodeling projects and created more satisfied companies. Ask around you will find someone who can tell you about the great work we do, if not go our Google page.
From All To Some
We can do all the work from design to build or just some. We work with DIYers to take the projects they don't feel comfortable doing. From demo to done, that's the remodeling pro. Check out some of our newest remodels.
Kitchens and Baths
The Remodeling Pro specializes in bathroom and kitchen remodeling. We promise to take your old kitchen or bath and replaced it – quickly and affordably. Call (816) 268-9800 today to get a free no hassle bid on your remodeling project.
Four Easy Steps To Your Lee's Summit Remodeling Project That Reduce S-T-R-E-S-S
If experience has taught us one thing over the years, it is that simple communication, proper planning make renovating a home less stressful. The Remodeling Pro has helped families just like yours for years remove the  S-T-R-E-S-S. Here is our simple four step process.
STEP ONE

Our no-hassle, no high-pressure consultation will help you determine the best solution and redesign for you.

STEP TWO

We will then create a design; help you visualize the final product and produce a proposal that clearly spells out the costs and expectations.

STEP TWO

STEP THREE

The Remodeling Pro will then build the dream bath, kitchen or addition your requested. All the while, keeping the workspace YOUR HOME clean and safe.

STEP FOUR

Finally, our project manager will do a walk thru review with you. And confirm you are satisfied.

STEP FOUR
Whether you are looking for a full kitchen makeover or a simple bathroom fixture upgrade, our team is dedicated to seeing your vision come to reality. Our Lees Summit remodeling professionals help you design the home of your dreams.
WE ACCEPT ALL MAJOR CREDIT CARDS, CASH AND CHECKS. WE ALSO OFFER FINANCING THROUGH WELLS FARGO.
We Work On Home Residential and Commercial Property
The Remodeling Pro can help with both residential and commercial projects in Lee's Summit MO. We are dedicated to creating lasting relationships with our customers and promise to always make your remodeling experience a positive one.