Lee's Summit Bathroom Remodel 2017 – Porter House
Three Bathrooms and Various Handyman Projects
Products Used: Moen, Granite, Grab bars, New Tile
This home located in south Kansas City was a two story built in the late 1990s. The Remodeling Pro was asked to come in and take a look at several projects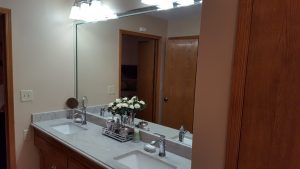 including the remodel of three bathrooms and the installation of several new lighting fixtures in other rooms.
Working at the Porter house was quite a blessing and we hope the Porters felt the same way. We worked on two smaller bathrooms replace the lavatory counter tops with granite and resetting some of the tiles around the plumbing fixtures. We added new lighting, updated the paint and added granite counter tops. We also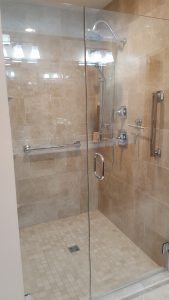 added a new tile, low threshold shower and several safety grab bars.
We also worked on a soaking tub that needed new fixtures. We moved some fixtures on the tub creating a need to repair the tile in areas. We were able to reuse tile from another location to make it look just like it was always the original tile and location of the fixtures. The project took place over several weeks as we were working on really about 6 separate projects.
Thank you to the Porters for having us out to their home and allowing us to complete their remodeling projects.
CALL TODAY (913) 268-9800
The remodeling pro is top notch honest and very easy to work with from start to finish.

David G
Bathroom Remodel 02-12-2016
Reliable remodeling company. Very friendly and professional. Kept area clean. Will hire again.

Rhonda P
Remodeling 04-29-2017
Workmen polite, always left site tidy.

John R
Remodel 07-19-2016
Helped me with my bathroom remodeling project. Love it!

Richard W
Bathroom Remodel 06-01-2016
I hired the Remodeling Pro to update my bathroom. They replaced bath tile, vanities, and even lighting. Looks Great! Thank you- Ed, Keith, and John.

Richard W
Remodel 06-26-17
We met The Remodeling Pro at an expo. They were a little slow recontacting us to schedule an appointment, but from then on everything was prompt and efficient. The bid was cheaper than our other bid from a national franchise outfit. We preferred traditional "down to the studs" work rather than "fits over the old" process, so went with The Remodeling Pro.

Client
Replaced bathtub and surround 04/18/15