Refinishing, Refacing, Replacing
Kitchen remodeling is very popular these days and The Remodeling Pro is Kansas City's most recommended kitchen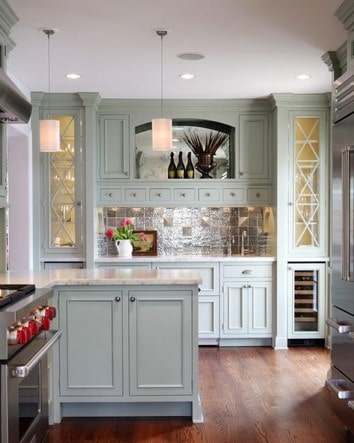 remodeling company. We often are asked the question is it cheaper to refinish, reface, or replace your kitchen cabinets? In our experience at the Remodeling Pro we have found refinishing and refacing is slightly less expensive. Only slighting.  Which brings up another question – if you could completely replace your kitchen cabinets by adding increased storage, specialized drawers and cabinets for slightly more money, wouldn't you?
Are you looking to renovate your kitchen? Then you should educate yourself on the three R's – Refinish, Reface, Replace.  These three alternative methods can affect the bottom line and beauty of your kitchen remodeling project. Let me explain what each is and what makes them different.
Refinishing
Cabinet refinishing is simply removing old finish and re-coating the existing cabinet doors, base and drawers is new paint or stain. Even though it is often the most economical it comes with a poor reputation.
Cabinets that are refinished may look updated, but they often do not end up looking "brand new." There is so much that figures into whether your cabinets can be refinished successfully. The best candidates are kitchen cabinets that retain their functionality, have an ageless style, and are made of high-quality wood (cherry, maple, ash, hickory and oak). More modern lacquer cabinets are not a good candidate for refinishing.
Refacing
Refacing is a step up in cost over refinishing because you replace cabinet doors and drawers with brand new ones. And refinish the old bones with same finish or a veneer. Refacing increases your options, with more styles and color options to choose from – the overall look is new.
Cabinets that are not in good shape or the layout seems wrong are not good candidates for refacing which means you need to go with the next option.
Replacing
Replacing is what most people think of when they are planning to remodel a kitchen. You will completely remove the old cabinets and replace them with brand new cabinets. Replacing allows you to get rid of those tired old looks and fix layouts that are outdated or just didn't work for you.
With replacing you have the luxury of changing your layout completely. Huge changes can be made to your cabinets including the additions of roll out pantries, spice racks, integrated appliance nooks, under cabinet chopping blocks, lazy Susans, easy glide drawers, towels racks and much more. You are limited only by available space, your imagination and your budget. If you can dream it, the Remodeling Pro can build it.
It's obvious that all these options (Refinish, Reface, Replace) have their benefits and pitfalls. Renovating your kitchen is a process and many will decisions will be required. The Remodeling Pro would love to walk you through the options and put you on the right path toward your new kitchen remodel. Call us at (816) 763-8200 to schedule your no hassle estimate.