5 things you should consider when picking out new kitchen countertops
Cost
Color schemes
Maintenance
Durability of the product
Consider Resale Value
Know The Costs
1. Know the costs of your countertops
Cost is often the first thing people look at; in fact, it can directly affect your choice even before you've considered what else needs to be accomplished in your kitchen remodel. New countertops can be expensive costing between $40 to $250 a square foot for Quartz and Granite and as low as $5 to $30 for tile and laminate. Knowing how much new countertops can help you budget your kitchen remodel. So, you need to spend some time looking over your options.
Cost Chart
These prices may change, but it will give you an idea of the cost of new countertops
Granite                 $50 – $200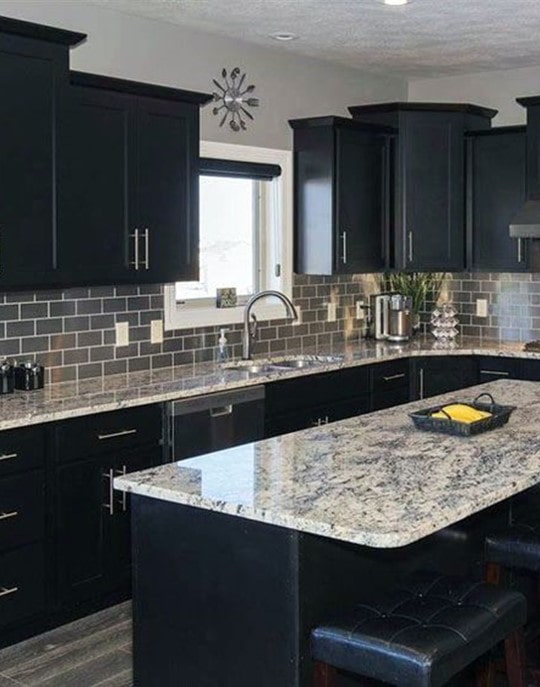 Corian                   $42 – $65
Quartz                  $100 – $150
Marble                 $125 – $250
Laminate             $20 – $50
Concrete             $70 – $150
Solid Surface      $75 – $120
Formica                $20 – $30
Stainless Steel   $75 – $150
Silestone             $50 – $100
Cultured Marble     $40 – $140
Recycled Glass   $50 – $125
Carrara Marble $50 – $150
Travertine           $50 – $100
Soapstone          $70 – $120
Butcher Block     $35 – $200
Choose Color Schemes That Have Broad Appeal
As for the color schemes of your countertops, think timeless too. Kitchen countertop styles don't change that frequently but stay away from the too trendy. Pick a color that works well with a wide range of color schemes. This will allow the new home owner to update paint, appliance and floor colors without dating the countertop.
Earth tones and neutral colors seem to be the most widely desired so look to those color schemes for inspiration.
Consider the Long-term Maintenance and Upkeep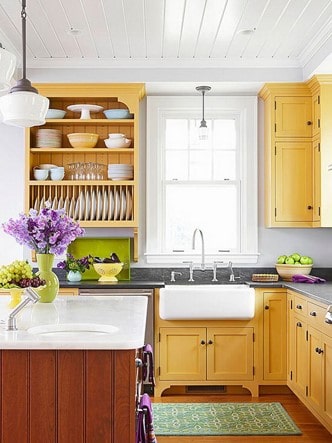 Every countertop has certain needed maintenance requirements in order to keep it looking great throughout its lifespan. Understanding those requirements is a must.  Maintenance can be a big deal.
Quarts is a non-porous material. It is fairly easy to keep clean and free from mold and bacteria.
Granite and Marble require more maintenance than just periodic cleaning – they require sealing at least once a year to prevent water damage or staining.
To keep your kitchen countertops in prime condition, they are going to require routine maintenance and upkeep – or not.  No matter which countertop material you choose just make sure you ask the salesperson about the maintenance required.
And remember, some of the highest required maintenance comes with those consider to be the most gorgeous in appearance and retain high resale values.
Durability of the countertop
Not all kitchen countertops are equal. Though all are designed to improve the overall look of your new kitchen different types of countertops appeal to the needs of different customers. Some counter tops are made appealing by their low cost; others by the long-term durability.
When you are looking for a new kitchen counter tops you should consider durability as on of the most important benefits. Durability means the kitchen remodel will be worth your effort, especially if you plan to eventually sell your home.
Since quartz is almost indestructible and very scratch resistant and granite quite beautiful but slightly less durable than quarts; are the top choices when it comes to durability.  The Remodeling Pro finds quarts and granite to be the most popular countertops we install.
Marble is softer stone and is more prone to nicks and scratches but marble can be polished to remove them.
Ask for more information about your options.
Consider Resale Value
Homeowners in the 50s, 60s, and 70s made different decisions on how to purchase a home. First, they saw the purchase of a home as a life-long process. They assumed they would be in the home for a very long-time.  So, when they picked countertops and tile the only thing that mattered is whether of not they liked what they chose.
Nowadays home owners should be savvier and consider less trendy and more broadly acceptable countertops. Why? Because on average most of us will resell our homes every ten years or so. Certain color schemes and materials are more desired. Corian, quartz and granite add more value, while other materials just don't. Think in terms of timeless beauty and durability.