Touchless Automatic Faucets For Your Next Remodel
Whether you are completely remodeling your kitchen or just replacing a faucet The Remodeling Pro can help. A hands-free faucet might be perfect for your home or business call us today for an estimate.
Touchless or no-touch sink taps offer a new alternative for bathrooms, whether absolutely reworking a bathroom or simply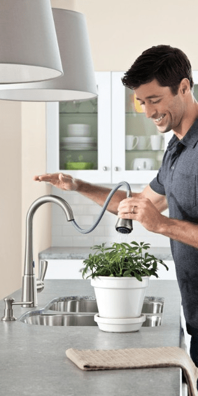 updating the sink vanity. Companies from Moen, Delta, Kohler and American Standard have released no-touch taps for kitchens, bathrooms and utility rooms.
A fingers-free, touchless, or movement sensing faucet is designed to open its valve while you wash your hands using proximity sensor to turn the water on. If you are hands are dirty this is very helpful, no need to dirty the handle. This is especially important during times with virus issues, no touch means no viral transfer.
Hands-free faucets are also economical and can save on your homes or businesses water bill. Because of how you operate these faucets you may use less water. With a Hands-free tap you simply swipe or wave near the neck of the faucet. And water comes out, no more waiting to turn off the faucet via the handle just swipe again.
They are less dangerous to youngsters because you can set the temperature guaranteeing that you children will not burn themselves.  Just set the temperature and forget.
Since Covid19 we're all aware of the need to promote health living and washing hands often. With a Hands-Free Faucet you lessen the risk of passing on unwanted germs, bacteria or viruses to others in your house or business.